Data Structures and Algorithms
Web Development
About this test
Data Structures and Algorithms online test: How it is structured and how it can help you hire your best candidate
Kandio's Data Structures and Algorithms test lets you assess the candidates, employees, agencies, freelancers or students you have concerning any data structures or algorithms task you might have.
Remember that Kandio offers guidelines on which programmers to proceed with, and which ones to discard. Kandio will give you reliable directions about things programmers should know about, but a programmer can be excellent, even if he does not know about all of these things.
We suggest that you use our tests before your interview process to know which ones actually to talk to. The final Kandio report should be a piece of conversation with the strong candidates, rather than a disqualifying process in a late-stage interview process.
Data structures and Algorithms test details
Being extraordinary, data structures and algorithms are becoming increasingly crucial for the everyday programmer in today's world. The theories and standards covered in this online test cover the overall concept that spans across all programming languages it being Java, Python or PHP, etc.
The concepts of proper data structures and algorithms are essential to achieve great AI and machine learning which seems to be two of the biggest buzzwords of this decade. The concepts can also be summed up with this one picture: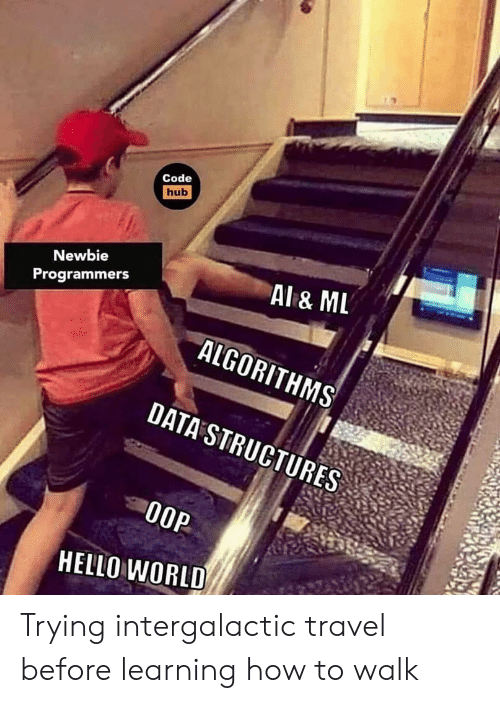 For these obvious reasons, we have made a collaboration with the DS guy, who is one of the world's most successful instructors on Data Structures and Algorithms on a global scale. He has personally crafted this test and all questions inside.
Who could benefit from the test?
This test will help recruiters in filtering out substandard candidates when it comes to hiring:
1. Developers: Entry-level, Mid-level and Senior level developers on any stage of their career and with any programming language (Java, Python, Php, etc.)
2. Software Quality Assurance Specialists (Automation Engineers, Automation Architects, SDET) for any tool, be it Selenium, QTP, SoapUI, etc.
Which areas are covered, and why they are chosen?
Algorithm Runtime Analysis
It forms the base of Data Structures and Algorithms. A successful candidate should have a fair idea of Runtime of any given Algorithm.
Array, LinkedList
These are the primary Data Structures. This is a must for any software engineer to perform the basic day to day tasks in coding.
Stack, Queue
These are simple logical Data Structures(DS), which are heavily used in specific situations (LIFO, FIFO). Knowing these DS in-depth helps in solving specific problems efficiently.
Tree, Graph
These are advanced logical data structures, which solve fairly complex problems in an efficient way. A successful candidate should be knowing these in-depth to write efficient code for fairly complex problems.
Sorting
There are multiple sorting techniques available. Each of these techniques has been designed for a specific situation. Knowing which sorting to use in which scenario helps in saving storage as well as time.
Algorithm
A given problem can be solved in many ways. But what differentiates an efficient software engineer from an ordinary software engineer is in-depth knowledge of algorithms. The same problem can be solved in much lesser time and space if the right algorithm is used.
Language(s)
English
Questions
30
Maximum completion time
52 minutes
Chapter(s)

7
Tree
Stack & Queue
Sorting
Linked List
Graph
Time Complexity
Algorithms (D&C, Greedy, Dynamic)
You might also like these tests:
Most recent Data Structures and Algorithms score
| | | | |
| --- | --- | --- | --- |
| 30 | Data Structures and Algorithms | | |
| | Linked List | 50 | |
| | Time Complexity | 0 | |
| | Tree | 25 | |
| | Algorithms (D&C, Greedy, Dynamic) | 19 | |
| | Sorting | 63 | |
| | Stack & Queue | 25 | |
| | Graph | 25 | |
Try a sample question from our Data Structures and Algorithms specialist
Made by one of the leading experts
I've always been passionate about Data Structures and Algorithms that's why I teach the subject. I now have an opportunity to further this passion by helping companies hire experts in this field. Kandio is what a community of passionate experts need.

DS Guy
Best Selling Data Structure & Algorithm Instructor of Udemy
Author of our Data Structure & Algorithms Test

Passionate about Data Structures and Algorithms, I am the DS Guy, as my students fondly call me.
Big data and analytics are the backbones of today's technologies. But before they can paint the bigger picture, data structures and algorithms should be designed soundly and precisely first. The success of your technology will rely on the success of your candidate. I've created an assessment test on Kandio to help you hire a powerhouse candidate who will help you achieve success.
EXPERIENCE
My Experience
The past 7 years working in the software industry with Data Structures and Algorithms was a result of my pursuit of this passion which started back in my early days in school. Today, I share this passion by teaching students everything they need to know about Data Structures and Algorithms.
October 2017 to Present

Data Structures & Algorithms Instructor
My Achievements
My knowledge has been purely driven by passion and for me, it would be an achievement to share this knowledge to those who share the same passion.
Recruiters who also used this tests
94% of all questions our support receives, can be answered in the below FAQ
I have many candidates - will they all receive the same questions for equal assessment?
Short answer:Yes, all candidates are equally assessed, when you use Kandio.Long answer:All our tests have different questions that might or might not change from vacancy to vacancy.However, once you lock a recruitment round in, the questions will lock in as well for all candidates going through your assessment, so that they are equally screened.
How can the exam score help me to make a better hiring decision?
Overall it would be best if you kept in mind that Kandio offers help with assessing your total pool of candidates. The point with this plan-of-attack is to give you a tool that will enable you to pinpoint the very underqualified candidates quickly, and promptly discard of them. As well as locating the strong candidates, and invite them for an interview before your competitor does.The difficulty of our tests is serious in general and is meant to find the lesser qualified. So you shouldn't disqualify a candidate at 67%, just because you have someone who's testing 70%. Or even 85%.Kandio is a tool you should use in addition to other means such as:- Common sense- Gut feeling- Internal screening- Other assessment tools from Mandomedio- Experience of the candidate- Career goals of the candidateThe reason we have priced Kandio the way we have is that it's meant to be used alongside other decision factors, and not as a sole dictation of which candidate to employ.
Why Kandio over other tests? And why not a free-writing test?
All Kandio assessments have a difficult multiple-choice approach and a very clear and tangible scorecard at the end. We only work with objective measurements and completely disregard candidate values such as consistency in work, ability to teamwork, humanity, and care for colleagues, sociality, and the likes.The reason for this is that in today's tech-oriented world, we often see a significant amount of different solutions to the same problem. If we offered free-write assignments, candidates would need to be assessed one by one, which obviously would be impossible at our price point.With us, you're buying access to a robust set of exams, written by the world's best authorities, with well-functioning scorecards to make recruitment easier. And on top of that, we are using big-data to benchmark all your candidates across other similar candidates.
How difficult are the tests Kandio offers my candidates?
All our tests are authored with serious difficulty in mind. We accept only the best test authors onto our platform, and a fixed percentage of revenue goes directly to our authors to keep content updated, and authors happy.Our goal is to weed out the least competent candidates in the most common knowledge within your desired field.Because of this, you should keep in mind to adjust your salary expectations and level of acceptance, if you're looking for junior roles, mid-level roles, or senior roles.
How do I adjust the level of my test to match the qualifications of the position I'm trying to fill within my company?
You don't. Our tests are made with such difficulty in mind, that they would challenge all skill levels regardless of seniority. We almost never see any candidate getting everything correct on our exams.If you are trying to fill a senior role, you would probably want candidates to score above 60% in Kandio. If you're looking for a junior role, you could probably settle with 30%-50%If you want a very junior role, that you can train along the way, you would be looking at 30%-50%.We wouldn't recommend considering any candidate below 20% unless you have clear indications from other factors of decision making.
Companies recruiting
19,777